Batukaang
Dark Choc Brownie, Overproof Rum, Lime
Save up to

€0,00
Save

€-12,00
Producer
Rodney Glick &
Kadek Edi
Location
Kintamani Region
Bali, Indonesia
Process
Bacteria & Yeast Inoculated
Anaerobic Natural
Variety
Catuai
Elevation
1100-1500 MASL
Brew Advice
Espresso
In: 19.7g
Out: 42g
Time: 28 seconds

Milky Espresso
In: 20g
Out: 36g
Time: 27 seconds

V60
Coffee In: 17g
Water In: 255g
Time: 2.30-3.00 minutes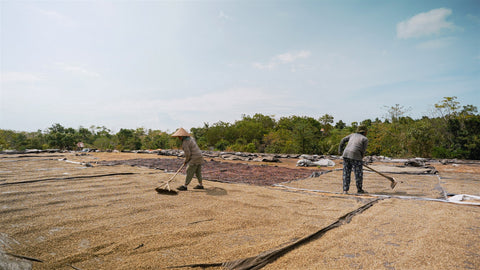 About this Coffee
Karana Global is one of the local thought leaders in coffee fermentation techniques and we are very excited to bounce off ideas with this year's harvest. Together, we processed all of our CATUR Collection taste profiles as well as utilizing more terroir-specific fermentation starters. Karana is the collaboration between two like-minded coffee professionals sharing a passion for great Specialty Coffee. Rodney Glick, Australian, and Kadek Edi, Balinese are both Certified Licensed Q Graders, Processors, Roasters, Baristas and Coffee Supply Chain Experts.
Karana not only processes red coffee cherries from Bali and East Java but also sources commercial and Specialty grade green beans from other Indonesian origins such as Flores, West Java, Papua and Sulawesi, as well as Sumatra for both export and the domestic coffee market.

From 2018, in collaboration with Taiwan Barista Champion Stanley Chien, and Mikael Jasin, Indonesian Barista Champion, Karana began a series of complex and detailed processed specialty lots using Arabica and Robusta Carbonic Maceration for use in competition.

Bali is where we do a bunch of different things: from small-scale experimental projects all the way to serious scaled-up operations. The KAMALA taste profiles that come out of Bali are now becoming a staple in some of the best cafes around the world.

This particular lot started in a massive 7,000 litre sealed ceramic tank. We started by inoculating the cherries with Klebsiella bacteria & Saccharomyces cerevisiae yeast (also called brewer's or baker's yeast) before sealing the tank to let the coffee ferment for a few days. After the desired Ph was achieved, the cherries are then dried on raised beds to allow air to flow around the fruit and enable an even drying process.

The drying process of natural coffee can last 4 - 6 weeks. During this step, the cherries are turned or raked several times a day to help cherries dry more evenly. Once the fruits are completely dry (dried pods), they are then sent out for hulling to remove the coffee bean from the dried pods and then off to the dry milling process to sort the beans based on weight, size, and colour.

Last years Kamala #04 was reminiscent of Black forest cake with its very boozy cherry notes. Staying true to its cake theme, the 2022 harvest tastes more like a rich Sacher-Torte.
Not for the faint-hearted!
This inoculated concoction has extravagantly rich flavours ready to blow your socks off. This is one dark chocolate brownie that's not for the faint-hearted, with a funky overproof rum note and a refreshing lime backdrop. Try out this coffee we sourced directly from World of Coffee 2023!