Las Chicharras
Chocolate, Caramel, Spices

Save up to

€0,00
Save

€-111,69
Producer
E-Café
Location
Jaltenango,
Chiapas, Mexico
Process
Washed
Variety
Caturra, Arabe,
Bourbon, Costarica 95
Elevation
1200-1400 MASL
Brew Advice
Espresso
In: 19.5g
Out: 42g
Time: 29 seconds

Milky
In: 20g
Out: 36g
Time: 28 seconds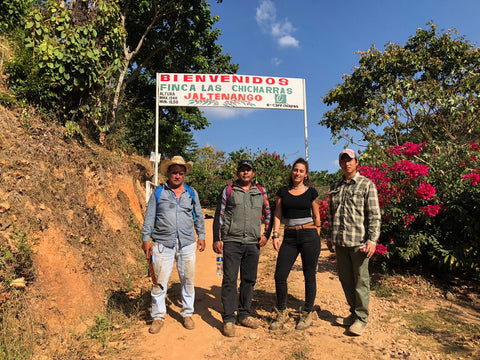 About this coffee
Owner of the plantation las Chicharras is E-Café, an ONG "Organización No Gubernamental" - a private, independent, non-profit organization which follows social or socio-political purposes.

Years ago, E-Café founded a school in La Trinitaria, Chiapas with 3 children. Today the school "hosts" 157 students in a boarding school model. In comparison to other schools in Mexico the students are particularly educated on their language skills. That is the reason for the high rate of over 90% of graduates that go to college. E-Café creates jobs through its activities in many different areas - teaching, gardening, farming.

Green trader Rehm & Co on their visit to Las Chicharras: "At our first visit in early 2016 we decided to start building a classroom on the farm together with E-Café. The farm is located in the mountains, about 2 hours away from the nearest town of Jaltenango. Going to school is therefore difficult or nearly impossible. The first donation was used up by February 2016; further donations followed in December and January 2017. In February, we received the good news that the new building was ready and the children would be able to use it for classes".
A sweetheart of a coffee
This washed coffee from Jaltenango, Chiapas in Mexico is a sweetheart with its lovely notes of chocolate, caramel and spices.