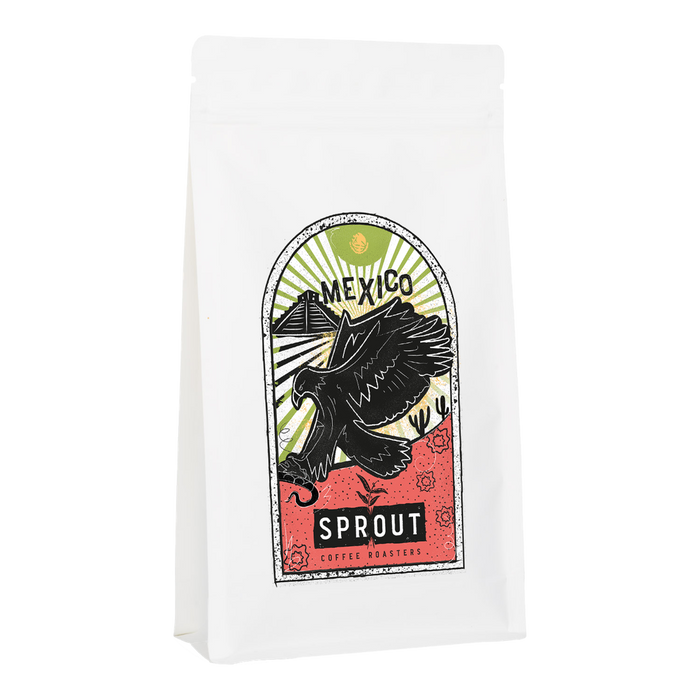 El Olmo
Chocolate Caramel Spices

Producer
Marcos Aguilar
Location
Teocelo, Veracruz,
Mexico
Process
Washed
Variety
Mundo Novo, Marsella,
Oro Azteca
Elevation
1300 MASL
Brew Advice
Espresso
In: 19.7g
Out: 42g
Time: 28 seconds

Milky Espresso
In: 20g
Out: 36g
Time: 27 seconds

About the producer
The Olmo coffee farm is located close to the city of Teocelo in Veracruz, Mexico. The cooler temperatures of the area and the shades cause the coffee beans to mature more slowly, which makes the coffee cherries denser and hence have deeper flavors and aromas. Mexican coffee from the state of Veracruz is often distinguished by its nutty flavor, smooth taste, and a brightness with chocolate and sweet spiced notes.

The farm is named after an endangered local tree species - the Olmo tree - and proudly has several Olmos that are more than 100 years old. The farm combines third generation Mexican coffee growers lead by Marcos Aguilar with locally based partners to maximize the coffee quality and the sustainable impact.

Due to climate change, deforestation, droughts and plant diseases, coffee is facing environmental challenges globally, and Olmo coffee farm is unique in its sustainability approach. Examples of this are the usage of solar panels to process shade grown coffee, organic compost and African raised drying beds. Even the CO2 impact from transporting the coffee bags is being compensated meticulously by the Olmo coffee farm through their local fruit tree planting effort.
Smooth daily driver
This washed coffee from El Olmo coffee farm will comfort you day in, day out. Discover its sweet chocolate & spiced caramel notes with a slightly fruity backbone to make your daily cup of brew a tad more special.