Latte Art
Saturdays from 16:00 to 18:00
4 slots max, fulll = full!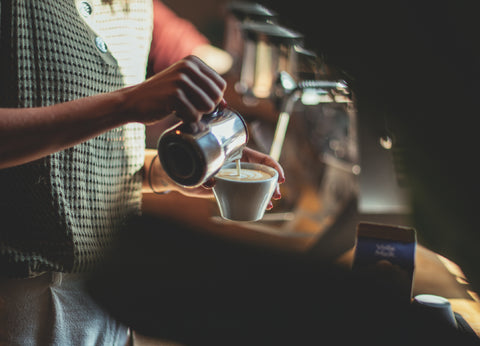 Get your latte art on!
Do you want to pour beautiful latte art and know what it takes to make tasty milk-based coffees? Come on by for a steamy workshop focused on milk! Whether you have just bought a machine and want to learn to steam from scratch, or have basic knowledge on steaming milk and want a new perspective - we will show you the right technique on our machine so you can start making latte art at home. Or perhaps you would like to freshen up your skills with other baristas so you can keep pouring art pieces at work. With the right foundation for making silky milk, you will be pouring hearts, tulips and rosettas in no time!

This workshop takes 120 minutes.
6 people max per workshop, price p.p.
What can you expect?
1. Experience how temperature and aeration affect the taste of your coffees.

2. Make beautiful micro foam for good latte art.

3. Learn how to adjust your technique to different types of milk.

4. Which milk jug to use for great art and the least waste.

5. See how the colour contrast affects your art.

6. Practise hearts, tulips and rosettas!